This easy and delicious Balsamic Onion Jam recipe is absolutely packed with flavor and is safe for water bath canning!
I am a hug fan of savory jams and this is one of my family's absolute favorites! Sweet onions combined with tangy balsamic vinegar and maple syrup create a lovely sweet and savory preserve that is fantastic served with cheese and crackers and dynamite on a burger or grilled chicken sandwich.
This recipe was originally adapted from Ball Canning and is safe for water bath canning. Be sure to follow safe canning practices as outlined by the National Center for Home Food Preservation.
Jump to: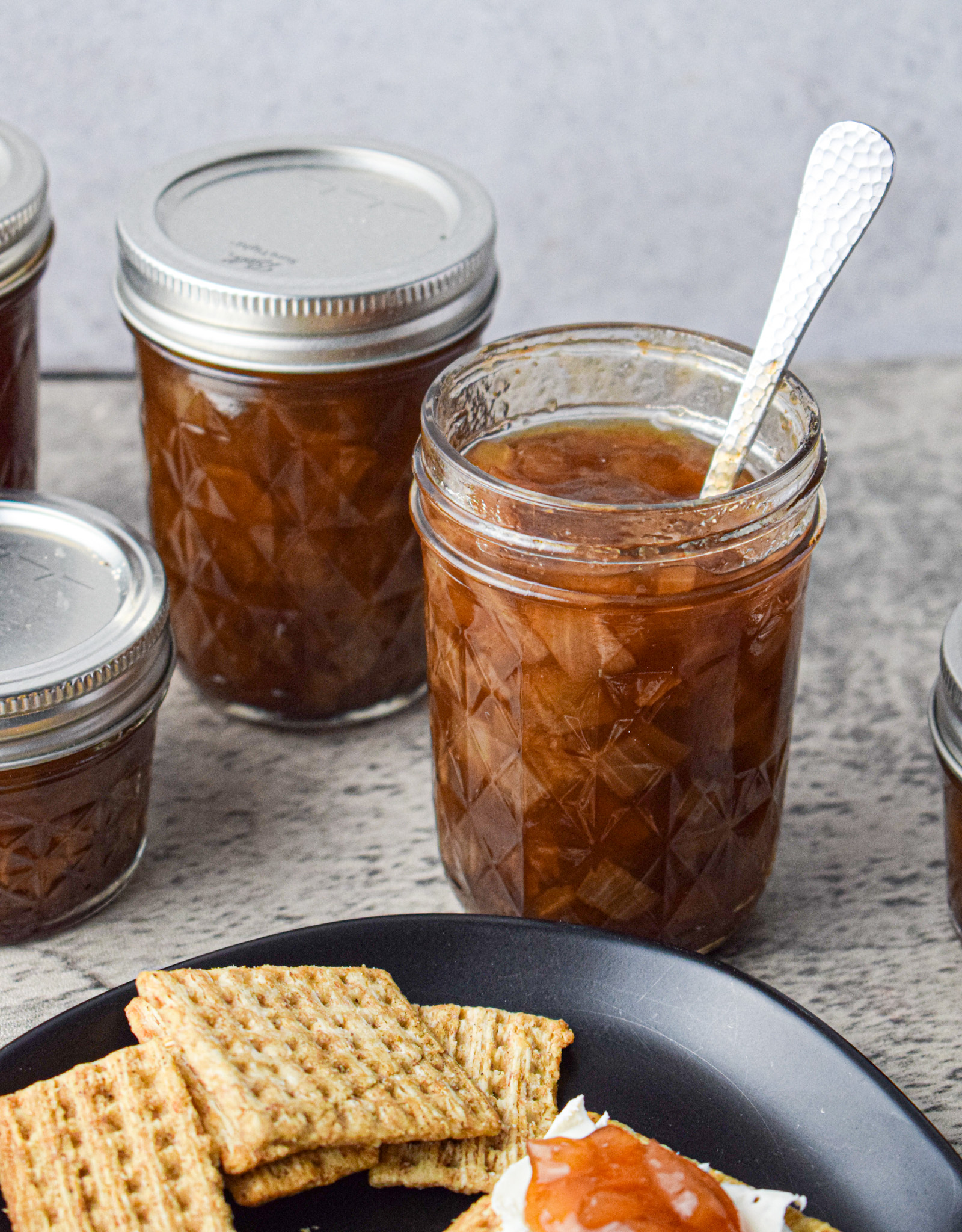 What is water bath canning?
Canning is simply the process of applying adequate heat to high acid food that is sealed in jars for the allotted time necessary to kill off bacteria and micro-organisms that cause food spoilage. During heating, oxygen is driven out of the jars, causing a vacuum seal to form when the jars cool down. This prevents any outside micro-organisms and oxygen from getting back into the food. When done correctly, canning preserves food safely for at least a year, although probably much, much longer.
You can check out my guide on How to Safely Water Bath Can at Home more resources on safe home preserving.
Safe canning resources.
If you are new to canning you can find great resources, recipes and tutorials at Ball Canning and the National Center for Home Food Preservation.
You can also check out my guide on How to Water Bath Can at Home.
Equipment
For the Balsamic Onion Jam.
Large pot
Cutting board and knife
Measuring cups and spoons
Fort water bath canning.
Mason jars: Make sure the jars are clean and that the lids are brand new. You cannot reuse canning lids.
Large pot with rack OR Electric Canner: If you only can once in a while using a large pot with a canning rack works just fine. As someone who personally does a lot of canning and I absolutely LOVE my Ball FreshTech Electric Canner.
Jar lifter: You will need a jar lifter to remove the hot jars from the water bath.
Funnel: I personally love this canning funnel because it also allows you to measure the headspace easily.
Ladle: This Prepworks Canning Scoop is my favorite.
Ingredients
Sweet onions: I like using Vidalia onions.
Balsamic vinegar: Check to make sure it's diluted to a minimum of 5% acidity.
Maple syrup: Look for pure maple syrup rather than pancake syrup for this recipe. It makes a huge difference.
Bay leaf
Black pepper
Salt
Apple juice: I recommend using 100% organic apple juice for this recipe.
Low/no sugar pectin: For this recipe you'll need to use a Pectin that works for lower sugar jam recipes. I recommend Sure-Jell Premium Light Fruit Pectin but other brands work as well.
More recipes to check out.
Made this Balsamic Onion Jam? Let me know what you think in the comments!
Recipe
Balsamic Onion Jam
This easy and delicious Balsamic Onion Jam recipe is absolutely packed with flavor and is safe for water bath canning!
Equipment
Large pot

Cutting board and knife

Water bath canning equipment

see notes above
Ingredients
2

lb

sweet onions, diced

½

cup

balsamic vinegar

diluted to at least 5% acidity

½

cup

pure maple syrup

1.5

tsp

salt

1.5

tsp

ground black pepper

1

bay leaf

2

cups

apple juice

organic recommended

3

tbsp

Low or No-sugar pectin

½

cup

white granulated sugar
Instructions
In a large pot combine onions, balsamic vinegar, maple syrup, salt, pepper and 1 bay leaf.

Cook over medium heat for about 10-15 minutes until the onions are translucent, stirring occasionally.

Add in apple juice and pectin and stir to combine. Turn heat to high and bring to a rolling boil.

Then add sugar all at once and bring the mixture back to a full rolling boil that cannot be stirred down. Boil at this level for 1 minute then remove the pot from the heat.

At this point you can either spoon the jam into jars and place them in the fridge or can them using the instructions below.
Water bath canning instructions.
Ladle the jam into 7-8 half pint jars leaving about ¼th to ⅓rd inch of headspace.

Remove air bubbles and wipe the jar rims.

Place on new, clean lids and bands and process in a boiling water bath for 15 minutes (adjusting time for altitude).

Turn off the heat and allow the jars to rest in the warm water for 5 minutes before removing and placing on a towel on the counter (do not place directly on the counter).

Allow the jars to cool undisturbed for about 24 hours until all the lids have sealed.

Store sealed jars in a cool dry place for 12-18 months for best quality.

*Note* If any of the jars do not seal simply store in the refrigerator and consume within 10-14 days.