This delicious Italian Pasta Salad is made with fresh veggies, Italian cheeses and a tasty vinaigrette that will have your family begging for more.
For the best flavor be sure to use Pure Flavor® Aurora Bites Mini Sweet Peppers, the sweetest mini peppers on the market.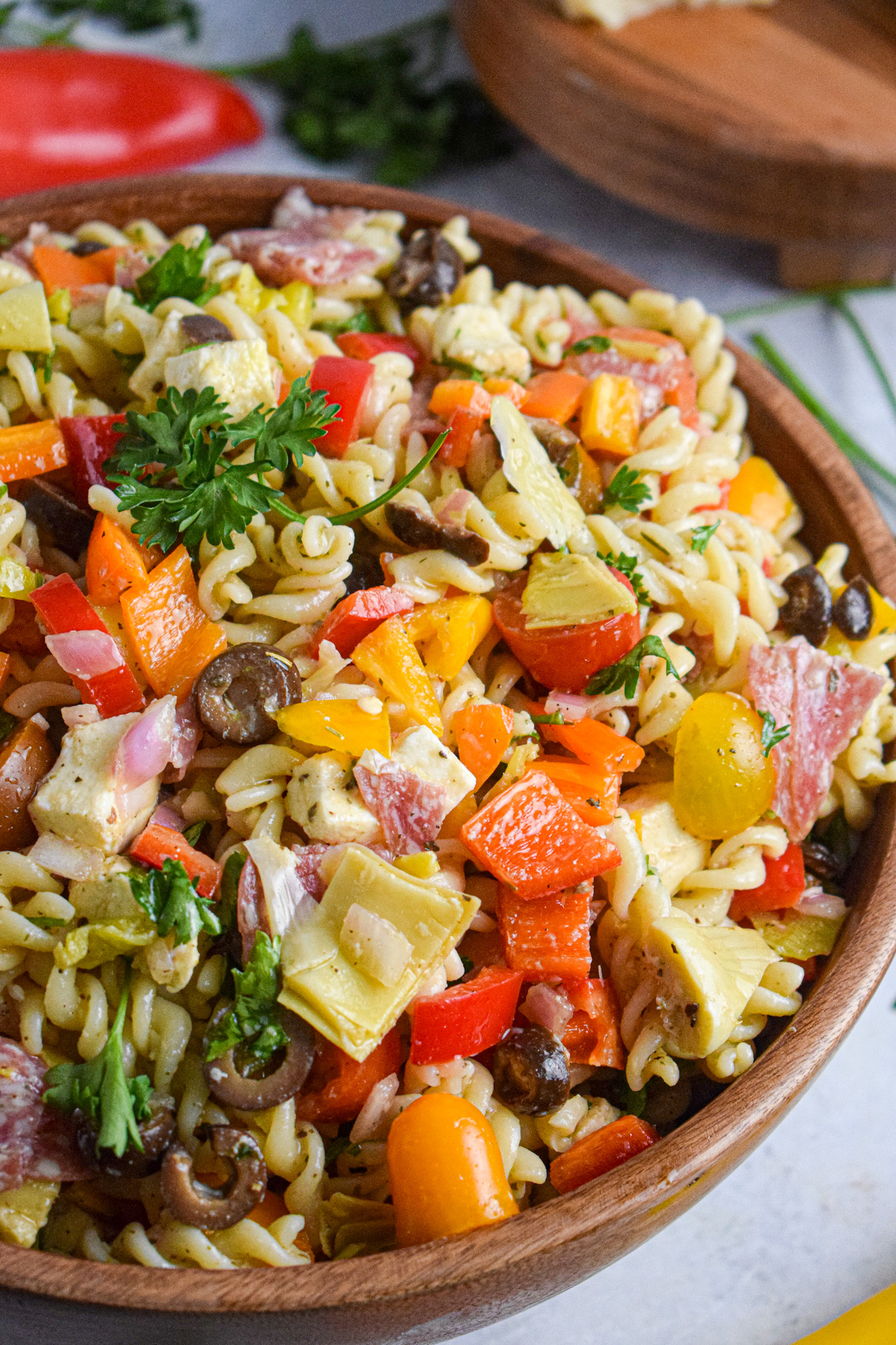 I feel like pasta salad is one of those oft overlooked dishes that somehow makes its way into every BBQ or family gathering but no one gets that excited about. Well this recipe is going to change that!
This Italian Pasta Salad is packed with fresh veggies, cheese and a zesty Italian dressing that will knock your socks off! The perfect spring and summer side dish for BBQs, gatherings or even as a stand-alone lunch or dinner. It's also great for your weekly meal prep!
For the best results be sure to purchase quality ingredients such as Pure Flavor's sweet and delicious Aurora Bites Mini Sweet Peppers. Enjoy!
Jump to:
By now I'm sure y'all know I am a big fan of Pure Flavor® produce, and these sweet and delicious Aurora Bites Mini Peppers are no exception. In addition to tasting great, they are committed to ensuring the highest quality greenhouse grown produce. Pure Flavor treats their growers, employees and customers with the upmost respect, which is something I can really get behind.
These crisp sweet peppers are not only great for snacking (my 5-year-old devours them) but they add fabulous flavor and texture this pasta salad.
Learn more at www.pureflavor.com.
Equipment
Large pot and colander
Cutting board and knives
Measuring cups and spoons
Large mixing bowl
Ingredients and Substitutions
Pasta: I recommend using organic rotini pasta. The quality of your pasta really does make a difference in this recipe. Good dried pasta should look a bit chalky and rough (not smooth and shiny).
Shallot: I use a large shallot for this recipe but you can substitute about a ⅓rd cup of finely chopped red onion in a pinch.
Fresh Garlic: Fresh garlic is always best. I recommend staying away from jarred minced garlic as it often has an unpleasant aftertaste.
Wine vinegar: Red or white wine vinegar work for this recipe. In a pinch you can use Champagne or even plain white vinegar.
Balsamic Vinegar
Olive oil
Italian seasoning
Red pepper flakes (optional)
Dijon mustard
Sweet mini peppers: I highly recommend using Pure Flavor Aurora Bites for this recipe. They give fantastic sweetness, flavor and texture.
Sweet baby tomatoes
Sliced black olives: Be sure to drain the can before adding
Marinated artichoke hearts: I recommend using marinated rather than fresh or jarred in water. It adds great flavor.
Pepperoncini peppers
Salami: You can add more or less meat depending on preference. If you don't have salami feel free to replace with mortodello, pepperoni or another Italian cured meat of your choosing.
Fresh mozzarella: I recommend using a fresh ball or mozzarella and then dicing it into small pieces. If you'd prefer to use the mini mozzarella balls those work too.
Parmesan cheese
Fresh parsley
Tips & Tricks for perfect pasta salad.
Don't overcook the pasta. Make sure to cook the pasta to just al dente (usually a minute or two before the recommended cooking time).
Salt the pasta water. This adds flavor to the pasta as it cooks.
Use high quality ingredients. Your ingredients make all the difference in this recipe.
Recipe FAQs
Can I make this recipe in advance?
This recipe will last about 3 days in the fridge. But rather than assemble the entire dish in advance I recommend prepping all the ingredients (including making the Italian dressing) and then storing them in the fridge until just before serving. Then simply mix them all together and serve for optimum taste!
Can I double this recipe to feed a crowd?
Yes! This recipe is easily doubled or even tripled to feed a crowd and is a great side dish for large gatherings and BBQs.
Can I use a different pasta shape?
You certainly can. I like rotini but fusilli also works great as does cavatappi, farfalle or even penne. You want to be sure to choose a pasta that has a lot of nooks and crannies to catch all the dressing and flavor.
More recipes you will love.
Berry Caprese Salad (aka 4th of July Salad)
Made this Italian pasta salad recipe? Let me know what you think in the comments!
Recipe
Italian Pasta Salad
This delicious Italian Pasta Salad is made with fresh veggies, Italian cheeses and a tasty vinaigrette that will have your family coming back for seconds!
Ingredients
16

oz

dry rotini pasta

12

sweet mini peppers, stems removed and diced

can substitute with 2 large sweet bell peppers

10

oz

sweet baby tomatoes, cut in half

2.25

oz

can of sliced black olive, drained

7

oz

jar marinated artichoke hearts, drained and chopped

¼

cup

pepperoncini peppers, finely chopped

8

oz

fresh mozzarella, diced

⅓

cup

parmesan cheese, grated

⅓

cup

fresh parsley, chopped
Italian Dressing
1

large shallot, minced

2

cloves garlic, minced

¼

cup

red wine vinegar

can substitute with white wine vinegar

2

tbsp

balsamic vinegar

1

tbsp

dijon mustard

1

tbsp

Italian seasoning

pinch of red pepper flakes

optional

1

cup

olive oil

salt & pepper
Instructions
Fill a large pot with water and add a pinch of salt. Bring to a boil and cook pasta to al dente according to package instructions. Drain and rinse with cold water. Set aside. 

While the pasta is cooking make the dressing.

Add shallots and garlic to a bowl along with red wine vinegar, balsamic vinegar and a pinch of salt. Allow to marinate for at least 5 minutes.

Then add remaining dressing ingredients and whisk to combine. Season with a pinch of salt and pepper and set aside.

In a large bowl combine cooked pasta with mini peppers, tomatoes, sliced black olives, artichoke hearts, pepperonicini peppers, mozzarella, parmesan and fresh parsley.

Pour the dressing over the top and mix until well combined.

Season with additional salt & pepper to taste and serve. Enjoy!
Nutrition
Sodium:
241
mg
Sugar:
3
g
Fiber:
2.8
g
Potassium:
89.5
mg
Cholesterol:
15.9
mg
Calories:
389
kcal
Monounsaturated Fat:
13.5
g
Polyunsaturated Fat:
2.4
g
Saturated Fat:
5.2
g
Fat:
24.4
g
Protein:
10.3
g
Carbohydrates:
33.6
g