This delightful no pectin Blueberry Rhubarb Jam contains just 4 simple ingredients and is the perfect way to preserve the season!
This Blueberry Rhubarb Jam has quickly become one of my new favorite canning recipes when rhubarb comes in season. While this combo may not be as commonly known as strawberry rhubarb, I actually prefer making rhubarb jam with blueberries. Not only do naturally sweet blueberries balance the tartness of rhubarb, but they also contain a good amount of pectin (which rhubarb does not), making this recipe easy to make without adding commercial pectin.
While there's nothing wrong with commercial pectin, and it can really reduce the time of jam making, it does require significant amount of sugar. Whereas in this no pectin recipe you can play around a little and adjust the sweetness to taste. *Although I do warn against leaving sugar out all together as you still need some to ensure a good gel.*
I hope you enjoy this blueberry rhubarb jam as much as we do!
Jump to:
What is water bath canning?
Canning is simply the process of applying adequate heat to high acid food that is sealed in jars for the allotted time necessary to kill off bacteria and micro-organisms that cause food spoilage. During heating, oxygen is driven out of the jars, causing a vacuum seal to form when the jars cool down. This prevents any outside micro-organisms and oxygen from getting back into the food. When done correctly, canning preserves food safely for at least a year, although probably much, much longer.
You can check out my guide on How to Safely Water Bath Can at Home more resources on safe home preserving.
Safe Canning Resources
If you are new to canning you can find great resources, recipes and tutorials at Ball Canning and the National Center for Home Food Preservation.
You can also check out my guide on How to Water Bath Can at Home.
Equipment
For the Blueberry Rhubarb Jam.
Large pot or Jam pan
Cutting board and knife
Measuring cups
Potato masher: I like to use this to mash up the softened fruit for a smoother consistency. You could also just use a fork or even an immersion blender.
For Water Bath Canning.
Mason jars: Make sure the jars are clean and that the lids are brand new. You cannot reuse canning lids.
Large pot with rack OR Electric Canner: If you only can once in a while using a large pot with a canning rack works just fine. As someone who personally does a lot of canning and I absolutely LOVE my Ball FreshTech Electric Canner.
Jar lifter: You will need a jar lifter to remove the hot jars from the water bath.
Funnel: I personally love this canning funnel because it also allows you to measure the headspace easily.
Ladle: This Prepworks Canning Scoop is my favorite.
Ingredients
Rhubarb: Fresh or frozen both work. But make sure to thaw before using.
Blueberries: Fresh or frozen both work, just make sure they're thawed before using.
Sugar: White granulated sugar works best.
Lemon: I recommend both juice and zest for this recipe. But you can use bottled lemon juice in a pinch.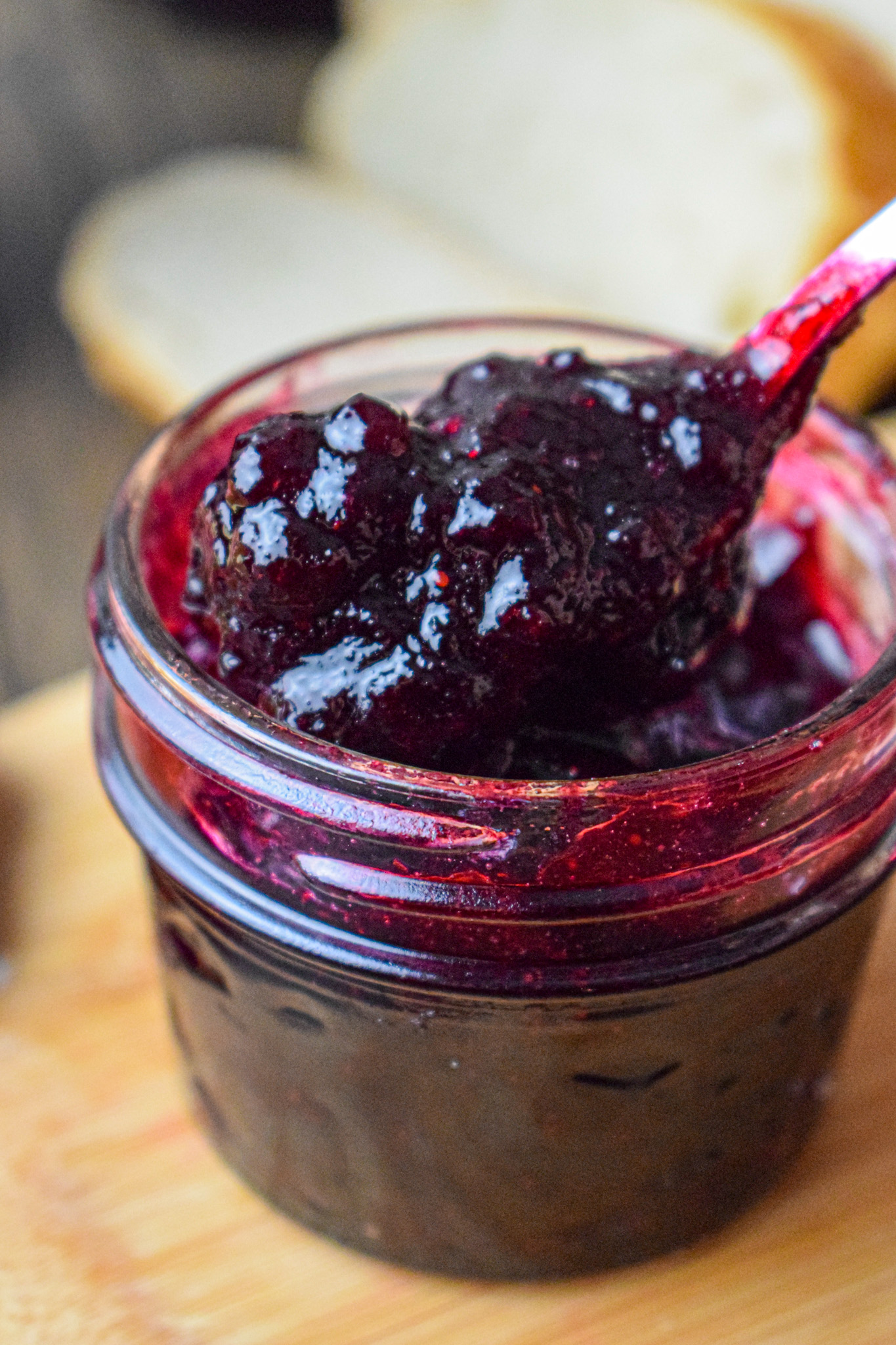 Recipe FAQs
How will I know when the jam is set?

There are a couple ways to know when jam has reached its setting point.

The first is to check for something called "sheeting". For this method simply dip a spoon into the hot jam and then remove it turning so the jam runs down the back of the spoon. The jam is set when you see the drops hang on to the spoon, rather than just flowing down into the pot.

Another method is to pop a small plate into the freezer when you begin making the jam so it has time to get very cold. Then when you think the jam is ready simply spoon a little onto the cold plate and give a few seconds to set, then run you finger down the middle. If the jam immediately seeps back where you finger has been then it is not yet set. If the space your finger made remains clear then the jam is set.
Can I reduce the amount of sugar in this recipe?
Simply put, yes. Because you are not relying on added commercial pectin to set the jam you can adjust the sugar according to your preferred level of sweetness.

However, as the sugar still does contribute to ensuring a good set, if you reduce it too much it may result in a looser jam. If that's not a problem for you then reduce way. If you prefer a better set then keep the amount closer to what this recipe recommends.
Can I add additional fruit or flavors?
Yes, feel free to get creative with this jam. I personally love making it with a little nutmeg and vanilla extract. Cinnamon or cardamom would also be delicious.
More recipes for you to enjoy.
Made this Blueberry Rhubarb Jam recipe? Let me know what you think in the comments!
Recipe
Blueberry Rhubarb Jam
This delightful no pectin Blueberry Rhubarb Jam contains just 4 simple ingredients and is the perfect way to preserve the season!
Equipment
Cutting board and knife

Large pot or Jam pan

Potato masher

Water bath canning equipment

optional *see notes above*
Ingredients
4

cups

blueberries, washed

4

cups

rhubarb, washed and cut into ¼th inch slices

4

cups

white granulated sugar

1

lemon, zest and juice
Instructions
In a large pot or jam pan combine blueberries and sliced rhubarb with the zest and juice of one lemon.

Cook over medium high for 5-10 minutes until the fruit has softened. Then use a potato masher to gently mash the fruit.

Add in sugar, then continue to boil the jam over medium high to high heat for an additional 20-25 minutes until it has reached the gelling stage. *See Recipe FAQ above for how to tell if jam is set*. Be sure to stir constantly once the jam has reached a boil to prevent the bottom from scorching.

Once the jam has thickened you can remove the pan from the heat.

At this point you can either spoon the jam into jars and place them in the fridge or can them using the instructions below
Water Bath Canning Instructions
Ladle the jam into mason jars leaving about ¼th to ?rd inch of headspace.

Remove air bubbles and wipe the jar rims.

Place on new, clean lids and bands and process in a boiling water bath for 10 minutes (adjusting time for altitude).

Turn off the heat and allow the jars to rest in the warm water for 5 minutes before removing and placing on a towel on the counter (do not place directly on the counter).

Allow the jars to cool undisturbed for about 24 hours until all the lids have sealed.

Store sealed jars in a cool dry place for 12-18 months for best quality.

*Note* If any of the jars do not seal simply store in the refrigerator and consume within 10-14 days.